---
Top 3 USSSA-240 Bats of 2022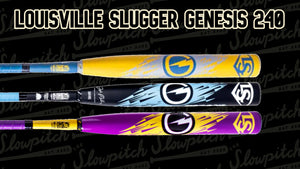 1) LOUISVILLE SLUGGER GENESIS 240
This is the single hottest bat in USSSA-240 slowpitch softball. The feel/weighting/sweet spot is also incredible. This is 100% our 'gamer' for USSSA this year.
From what we can tell, all of the 240 Genesis versions have the same exact barrel tech and there's no variation in barrel length or handle material - just slightly different endloads.
The only downside of the Genesis 240s is that they're a tad fragile in colder weather with harder balls: we've seen a few of them develop early top-layer cosmetic cracks/seams, but it hasn't affected performance at all.
After we filmed the Genesis video, we reached out to Louisville to see if they could get a discount code for our viewers since we really enjoyed the bat - and they came through for us - by using the discount code "BATBROS" you'll get $60 off any USSSA-240 Genesis.
Our top exit velo: 106.6 mph
Starting compression: 290 psi
CLICK TO LEARN MORE / BUY IT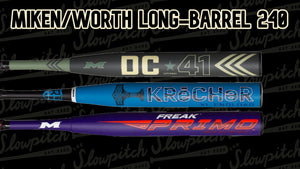 2) MIKEN/WORTH 13"-14" 240
With Miken/Worth's new Easton-inspired 240-tech, their long-barrels swing a lot better than their short-barrel in our opinion. A more forgiving and responsive barrel along with a much smoother and easier swing-weight.
These also seem to be very durable and hold compression really well.
Max exit velo: 103.6 mph
Starting compression: ~280 psi
CLICK TO LEARN MORE / BUY IT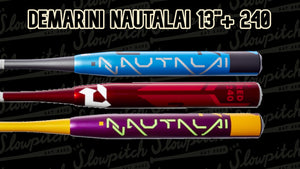 3) DEMARINI NAUTALAI 13"+ 240
The 2022 Nautalais are one of the best 240 bats for holding compression. You'll need a good 200+ swings to get them broken in (they won't feel very good at first), and then they stay in that 270-240 psi compression window for a long time. These have alloy handles, creating a stiff/rigid feel - but man do they hit the ball hard. They also have a super smooth weighting and a near-perfect grip/handle/knob setup. The Nautalai comes in a bunch of different shapes/sizes this year, but we think that the longer barrelled versions are actually the best ones (even though the short-barrels tend to sell the best).
Max exit velo: 103.3 mph
Starting compression: 300+ psi
CLICK TO LEARN MORE / BUY IT
---
Top 3 ASA/USA Bats of 2022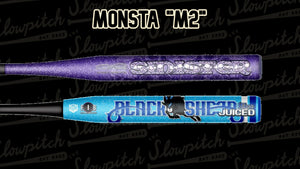 1) Monsta 'M2' ASA/USA
Bats: Torch, Sinister, Fallout, Black Sheep, Boogster, DB44 M2
The undisputed winner of our ASA exit velo showdowns. The Monsta M2 bats are simply built different. However, they are being discontinued (or banned...not sure which) - so get them while you can (only available through a few retailers currently).
These bats swing quite heavy, so I'd recommend going down a size (I normally swing 26 oz but I swing a 25 oz M2).
Only hit 52 cor softballs with these bats.
SOLD OUT (sorry)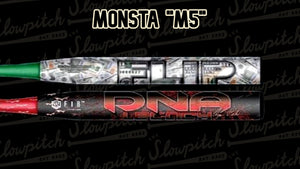 2) Monsta 'M5' ASA/USA
Bats: Flip Money, DNA Legacy, DB44, Fiend, Gangreen
A slight variation from the Monsta M2 bats: these seem to be a little bit less hot and take a bit longer to break-in. For awhile we weren't much of a fan of anything Monsta had put out besides their M2 bats, but the M5 bats are definitely worthy of the Monsta name. A super forgiving barrel, great exit velo, and an awesome loud sound even with a softer ball.
These also have a more typical heavy "M2" weighting.
Only hit 52 cor softballs with these bats.
CLICK TO LEARN MORE / BUY IT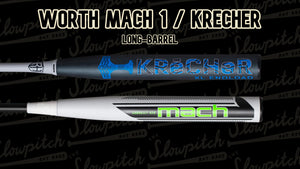 3) Worth Krecher/Mach 1 ASA/USA
These endloaded Worth long-barrels can pop off some impressive exit velocity, but they have a huge forgiving sweet spot to go along with it. While the Monsta bats win in exit velo, the Miken/Worth ASA bats win in sweet spot and performance across the whole barrel.
Traditional/orthodox weighting and a very solid sound.
Only hit 52 cor softballs with these bats.
CLICK TO LEARN MORE / BUY IT